Clever Ways to Hide Kitchen Electrical Outlets
Yes, we all need outlets in kitchens, sometimes more is better, but nothing messes with a clean design or backsplash more than an electrical outlet smack dab in the middle of an otherwise beautiful view!
Thankfully, the industry and designers have come up with several clever ways to hide outlets so they are out of sight and out of mind (until you need them).
Here, we have pulled together some of our favorite options for hiding those pesky, but necessary outlets in your kitchen.
We love when kitchen details are functional and stylish. Outlets are an absolute necessity and you want them close at hand, but they are not often very pretty to look at and can break up tile or backsplashes. We always add outlets to kitchen islands and here we decided to embed one into the actual cabinet so it is not only convenient but also seamlessly blends into the design.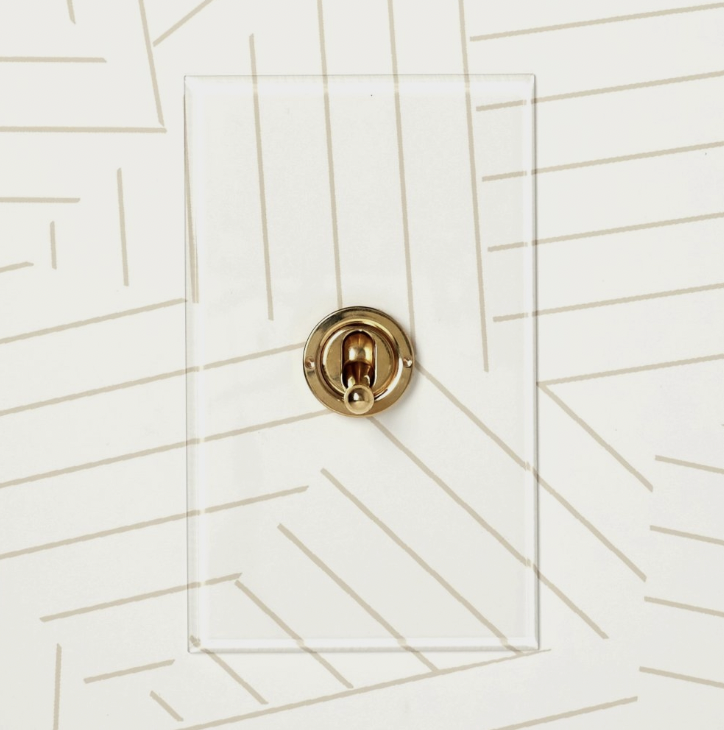 We love how many options there are from Forbes & Lomax, especially this invisible style. Inspired by1930s glass switches, they offer all of the advantages of modern technology. Switches and dimmers have 3mm transparent acrylic plates and come with your choice of brass, nickel, silver, stainless steel, or antique bronze toggle switches, dimmer knobs, and push buttons to fit any design or style.
Another option is the keypads, dimmers, switches, and receptacles from TRUFIG by Sonance. These flush-mount options create a sleek and minimalist finish that blends into the design of the space removing any visual distraction. They also offer fascias that are flat and can be painted and finished to match any surrounding surface to make it ultimately disappear. In some situations, a faux painter is required to make the face plates truly blend in…something to consider, depending on your budget. In the above example, both the outlet cover and Lutron faceplate have been faux finished to match the surround.
This option from the company ARIA is a No-See Receptacle Mount (Luxe). You open this small door to plug in your appliances and you close it to hide the outlets away only unveiling a small square in your finish. The square can accept materials in a thickness up to ……
We love this option from Buster and Punch for a more traditional look. It is sophisticated enough that it adds something to your design instead of distracting from it. A little more conspicuous than the other options, but nonetheless stylish and a change from traditional switches and outlets. It comes in five finishes and multiple configurations so it will fit any room or style seamlessly.
This option from Henry Built puts the outlet right into the cabinets as seen above. We love this because it's totally seamless and functional.
With the devices from 22 Systems, you can customize your own kit based on your needs. Do you want two outlets, done, do you want an HDMI or USB, done. This is the solution to look to if you'd like to combine, for example, a switch and an outlet, and want both of them to disappear into the surrounding material. (components can be faux painted for a completely camouflaged look.) We saw this solution recently at the Kips Bay Show House in NYC where it was used in a bathroom backsplash.