5 Kitchen Trends for 2023
Trends come and go, but what kind of kitchen design studio would we be if we didn't point out a few of our favorites that are coming up in 2023?
I always say, if it's a trend and you love it, then go with it. It is like choosing art. You should choose pieces that speak to you and that you adore, it often doesn't matter the reason. As long as you love it, you will be able to live with it long after the trend may have gone out of style.
So to kick off the New Year, here are five of my favorite kitchen trends for 2023.
Artisan Glass on Cabinetry and Windows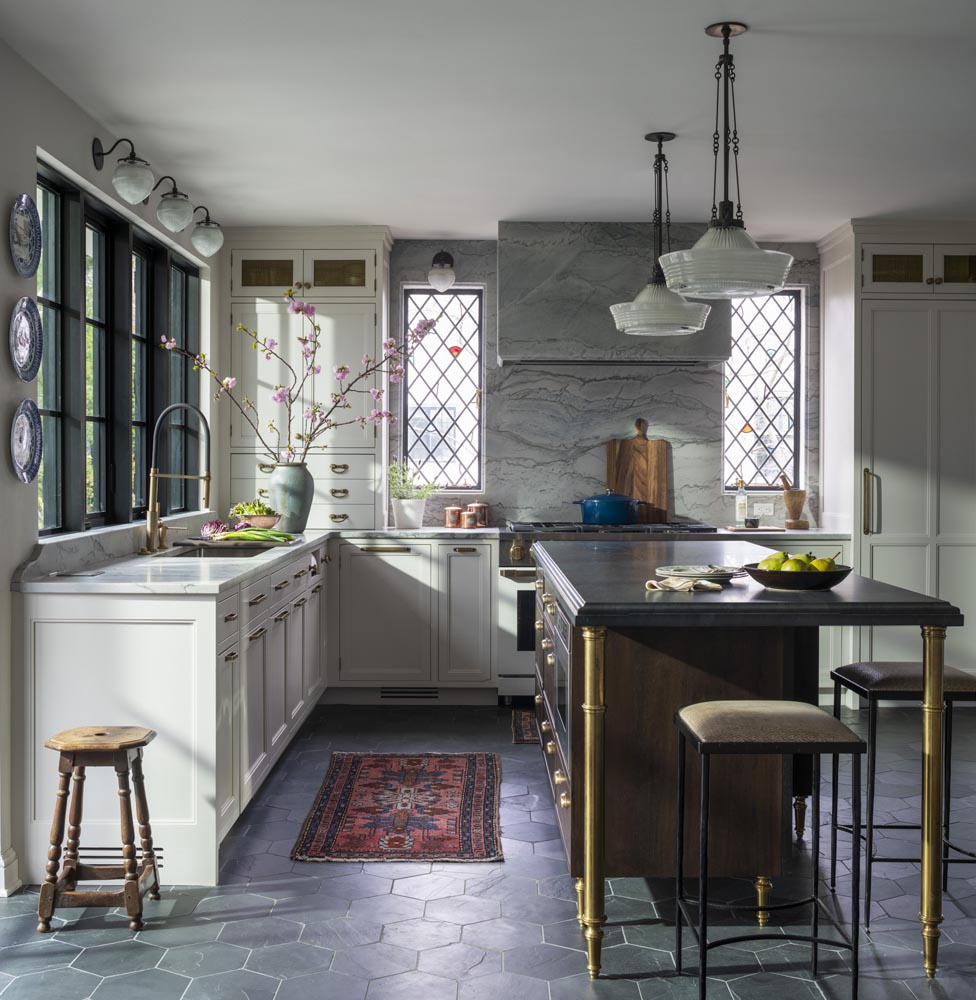 We have been playing with unique treatments in cabinetry and windows for a bit now, so we are very happy to see this pop up as a trend moving forward.
Whether it be with artisan glass, mesh, or metal, adding interest to cabinetry is always a plus in our book. The windows above may look old and original to the house, however, the homeowner and I painstakingly chose the panes for each window, which were nonexistent in the home before we remodeled the kitchen. The end result is beautiful but also keeps in line with the characteristics of this home, something I love staying true to.
This is the same kitchen, but here we used brass mesh added to the cabinetry to give this bar area an English feel and add a bit of sheen.
Furniture Style Islands
We love a good island, and sometimes we love two good islands, but being that our designs here at Studio Dearborn skew eclectic and curated we especially love this furniture style island trend. We made a nod to this recently in this Tudor with a Twist design adding brass legs to the kitchen island, but this trend takes it a step further. We cannot wait to explore this trend in some upcoming designs of our own in 2023.
At first glance, this is a traditional-style island, but we love the additional storage and furniture-like addition.
Creatively Mixed Finishes
This trend can be implemented in several ways. The first, and most common, is mixing metal finishes in hardware and lighting.
Another way to infuse this trend into your design is to mix other finishes like cabinet colors and sheen and tile and stone components. Whatever way you decide to mix this into your design, we love it because it has that worldly, very curated feel that any warm home has.
This traditional kitchen with a twist ties together multiple versions of this trend, most notably with the island and metal finishes.
Marble with Old-World Details
I am loving the marble that Nate Berkus and Jeremiah Brent selected for their revamped 5th Avenue home, but its not just the stone itself that gives it a wow effect–the detailing on the stone, including panels and baseboard on the island, and a beautifully profiled backsplash at the sink are making us swoon. Fabrication of stone details like these has never been more available, thanks to advances in laser stone cutting technology, and we anticipate seeing more of these kinds of subtle details in kitchens going forward.
Note that they also took an existing trend, like an apron sink, and elevated it using the same stone they used to wrap the kitchen island with. It is chic, super sophisticated, and totally unique.
We added a subtle panel detail in the statuary marble behind the range of this Studio Dearborn kitchen to give it a subtle feeling of history.
Dark Wood Stains
We are noticing a trend in moving away from less of the pale oak look when it comes to kitchen cabinets and darker wood stains being used whether it be in a small or large way.
Now, these are not the dark cherry stains of the 90s, which felt a bit formal and fussy. Rather, we are seeing warm and rustic stains that give a sense of history, which we love. We have also been known to mix these darker stains with painted cabinets (see above) like we did in this Home on a Nashville Hill.
In my own kitchen, I used black and beige but infused my kitchen bar with a rich, dark-stained walnut.